Explore the Bryce Canyon area on horseback
Explore the Bryce Canyon area on horseback and find your inner cowboy.
packages | FIND YOUR INNER COWBOY
Guided horseback rides through beautiful Red Canyon, the gateway to Bryce Canyon National Park. The rides follow the Cassidy Trail, named after the famous outlaw Butch Cassidy who used the trail to avoid capture.
The area is lightly visited and, therefore, you will enjoy untouched beauty at every turn. Take a break at Brayton Point, where you can enjoy spectacular views of the area's hoodoos and canyons.
Guided horseback ride through panoramic Kodachrome State Park just 30 minutes east of Bryce Canyon. The ride weaves through rolling terrain of washes and ridges following along the side of several red canyon walls.
Close views of the many colored cliffs and long views of Bryce Canyon and the mountains beyond abound. Really a special treat off the beaten path while listening to the sound of silence.
We are the only horseback service provider operating in the Park, and we have a trail dedicated solely for our use.
Give the Gift of Horseback Adventure
Take a ride on the canyon side.
You may see our horses out to pasture from your window. Enjoy the view from your room or saddle up with us and head to one of the canyons with your very own steed.
Choose your own adventure here in the wilderness.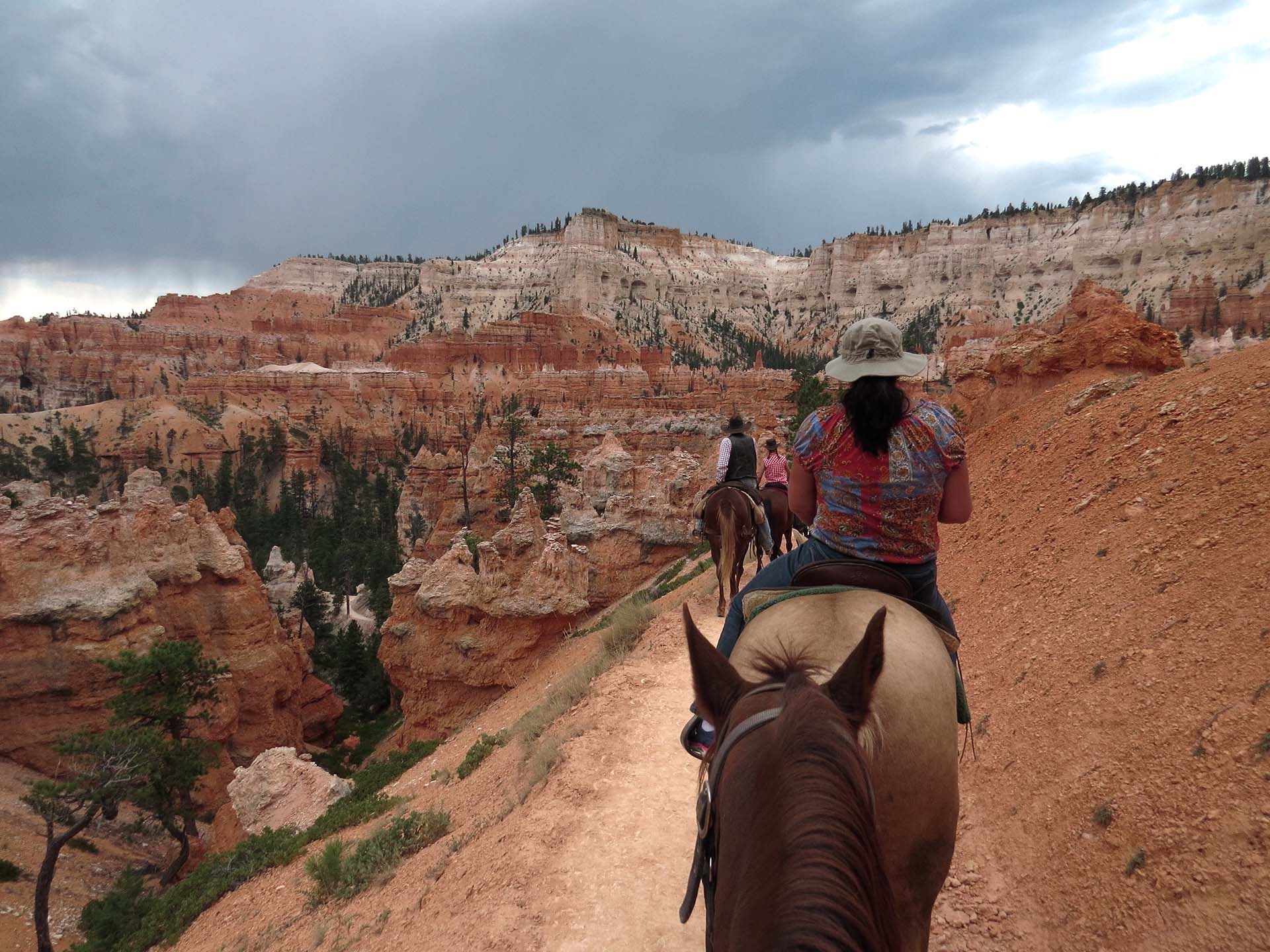 bryce pines horseback riding
"Absolutely amazing experience. Our wrangler Mike was so fun and very knowledgeable. This made our Utah Experience for sure. A must do for all!! Will be going back for sure:) We did the half day experience. I have been on many trail rides from Jamaica, Ramona, Pismo, & Hawaii and this ride by far was one of the best. The horses are beautiful and well cared for."
"We took advantage of their horse back riding and our wranglerette Rose was awesome. If you want a cowgirl who really enjoys what she does, cares about your experience, is so kind, and knows her stuff, she is the guide for you. And bonus…she knows how to back up a trailer. Will stay there again next time."
"This place is absolutely perfect and the Horseback guide trip into Red Canyon was incredible. Our guide Hap was the best and so knowledgeable. Our stay there flew by but the trail ride will forever live as one of my Favorite trips ever."
Bryce Canyon AREA | Red Canyon | Kodachrome Canyon
Eat. Rest. Explore.
Repeat.
Started in 1948 by Grandpa Rich, Red Canyon Trail Rides has been showing off the region's natural beauty from horseback.
Choose from our half hour, hour, half day, and full day rides. You'll be surrounded by beautiful red rock mountains, Ponderosa pines, and hidden waterholes. Escape on our Red Canyon Trail Rides — where Butch Cassidy hid from the law — or see the unique sand pipes on the Kodachrome Trail Rides.
Horseback riding with us offers everyone an adventure whether you are inexperienced or experienced. Your guide will provide genuine cowboy hospitality and find the right horse to fit each rider. Reserve a trail ride adventure today!